Der Tieworker Leather Manufacturer u.a. Lizenzpartner von Cinque, gehört zu der MONTI-Gruppe und bedient Fachhändler in ganz Europa.
(DE) Neben dem Accessoire Label MONTI werden u.a. Eigenmarken für Filialisten und Industriekunden entwickelt. Die Anbindung über EDI an den Fachhandel und die damit verbundene 24/ 7 Logistik ist eine von vielen Stärken der TLM. Kompetenz und Professionalität durch Spezialisierung im gesamten Supply Chain Management.
(EN) The Tieworker Leather Manufacturer, also Cinque's license partner, belongs to the MONTI group and serves specialist dealers throughout Europe. In addition to the MONTI accessory label, also own brands for chain stores and industrial customers is developed by TLM. The connection via EDI to the specialist stores and the connect 24/7 logistics is one of the many strengths of TLM. Competence and professionalism through specialization in the entire supply chain management.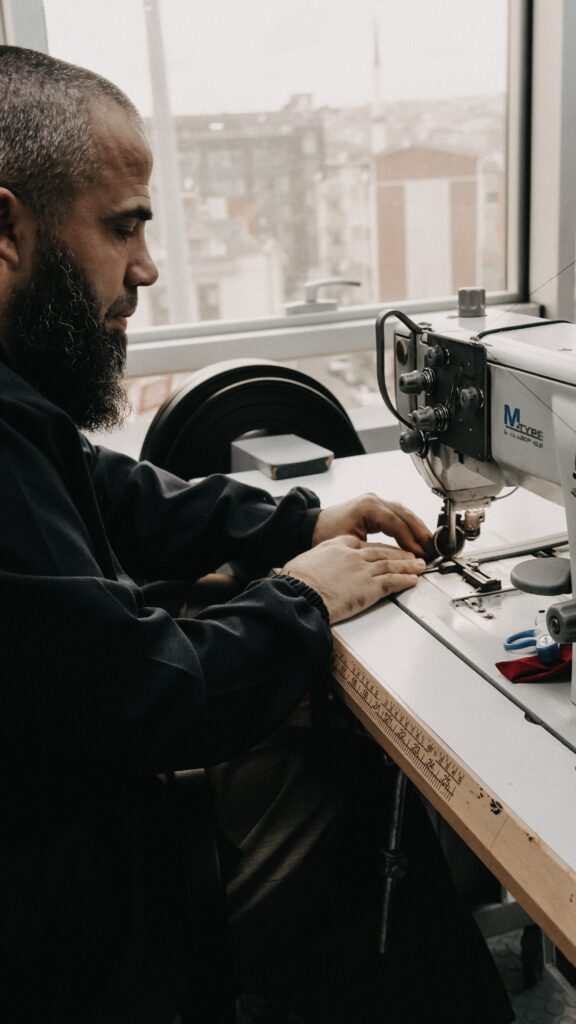 Ein TLM-Ledergürtel ist nicht nur ein Stück geschnittenes Leder
(DE) Die Auswahl und Bearbeitung des Rohmaterials durch die Gerberei ist entscheidend. Die Gerbung, die Färbung (durchgefärbt oder Anilin-Oberflächenfärbung) und die Stellung der Häute sind wichtige Kriterien für die spätere Verarbeitung zu unseren hochwertigen Gürteln.
(EN) A TLM leather belt is not just a piece of cut leather – the selection and processing of the raw material by the tannery is crucial. The tanning, the coloring (dyed through or aniline surface coloring) and the position of the hides are important criteria for the later processing into our high-quality belts.
Auf dem Weg zum optimalen Design durchlaufen die Waren detailverbunden und qualitätsorientiert viele Stationen
(DE) Zuschnitt, Schärfen, Untermaterial vorbereiten, Bombieren, Kanten färben, Dornlöcher stanzen, Dornlöcher verputzen, Materialhinweis prägen, Spitze stanzen, Käppchen vorbereiten, Schließen einnähen, Schließenanschrauben, genaue Qualitätsprüfung, Ware verpacken und verschicken. Bis zu 25 Arbeitsgänge sind erforderlich, um unseren Anforderungen und dem Image der Marke TLM gerecht zu werden.
(EN) On the way to the optimal design, the goods go through many steps in a detailed and quality-oriented manner: cutting, sharpening, preparing the base material, crowning, coloring edges, punching pin holes, plastering pin holes, embossing material information, punching tips, preparing caps, sewing in closures, screwing on the buckles, precise quality inspection, Pack and send goods. Up to 25 work steps are necessary to meet our requirements and the image of the TLM brand.
(DE) Alle von uns verarbeiteten Materialien unterliegen einer ständigen Kontrolle gemäß den gesetzlichen Vorgaben (z. B. ChromVI, AZO, PCP). Die Gürtelschließen sind nickelfrei und können daher ohne Bedenken mit der Haut in Berührung kommen. 
(EN) All materials processed by us are subject to constant control in accordance with legal requirements (e.g. ChromVI, AZO, PCP). The belt clasps are nickel-free and can therefore come into contact with the skin without hesitation. Our production partner in Istanbul is certified due to fair working conditions and social commitment!
Unser Produktionspartner in Istanbul ist aufgrund von fairen Arbeitsbedingungen und wegen seines sozialen Engagements zertifiziert!